"If I had asked people what they wanted, they would have said faster horses." -Henry Ford
2016-2017 Lady Villains' Coaching Staff.

Head Varsity Coach Brian Robinson.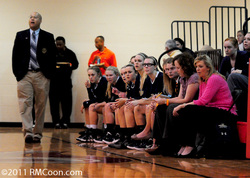 Brian Robinson just completed his fifteenth season as the Head Coach of the Varsity Lady Villains in 2016-17. The Villains have gone a combined 353-104 in Robinson's first fifteen seasons as a head coach at Bishop; 400-148 overall in nineteen seasons as a head varsity high school coach. The Villains were the 2005-06 1A State Champions in their first season back in the NCHSAA, after a long hiatus. The Villains then won the 2006-07 1A State Championship with a 32-1 record. The Villains followed that with a third straight state title in 2007-08 with a 27-6 record. In 2008-09, the Lady Villains won their fourth consecutive state title, finishing 29-4. Despite not winning the conference regular season or tournament titles in 2009-10, the Lady Villains made a strong run in the state playoffs and won their fifth consecutive state championship, finishing the season 23-7. In 2010-11, the Lady Villains again did not win the conference regular season title, but won their final sixteen games to claim their state record-tying sixth consecutive state championship. In 2011-12, the Lady Villains finished in third place in the conference regular season, and did not reach the conference tournament, but wound up with their seventh consecutive state championship, a NCHSAA State Record for consecutive state championships. The Villains added to that record in 2012-13, rallying from an eleven point deficit in the final four minutes in the state title game to win 57-52. In 2013-14, the Lady Villains finished 28-4 winning four straight state playoffs by single digits including the state title game which was won on a half-court shot at the buzzer. The Lady Villains advanced to the second round of the NCHSAA state playoffs in 2015-16, finishing 16-11 overall, and adding one more game to their state playoff record winning streak of 56 in a row without a loss. In 2015-2016, the Lady Villains qualified for the state playoffs as a #28 seed and advanced to the second round after upsetting the #5 seed in the first round. the Lady Villains started the 2016-17 season 0-4, but rallied to finish 16-13 and advance to the third round of the state playoffs. The Lady Villains have won five Northwest Conference Regular Season and seven Northwest Conference Tournament Titles, and nine NCHSAA State, Sectional and Western Regional Titles. The Lady Villains have made it the Elite Eight twelve times and to the Sweet 16 thirteen times in his first fifteen seasons at McGuinness.
Robinson was named the Northwest 1A Conference Coach of the Year in 2005-06, 2008-09 and 2013-14. In 2009-10 Robinson was selected as the Associated Press' State Coach of the Year. Robinson was also a three-time Runner-Up for the NCHSAA State Coach of the Year in 2005-06, 2006-07, and 2011-12 as voted on by the Associated Press in North Carolina. In 2007-08 and 2012-13, Robinson was the second runner-up for the AP State Coach of the Year. Robinson was also named Coach of the Year by the
Greensboro News & Record
in 2005-06, 2007-08 and 2011-12, by
Triad Sports
in 2005-06 and 2009-10, and by
NCPreps.com
in 2006-07. Robinson also won the Homer Thompson Award "Eight Who Make A Difference" at the conclusion of the 05-06 Season. In 2003-04, Robinson was named the PACIS Coach of the Year for leading the Villains to a 24-8 record and a trip to the 3A State Tournament.
Before coming to Bishop, Robinson spent the previous four seasons as Head Varsity Boy's Coach at Starmount High School in Yadkin County. Robinson's Teams made the state playoffs twice, and finished as high as third place in the Northwest 1A Conference in 1999-2000.
Robinson began his high school coaching career at his Alma mater, R.J. Reynolds High School, in Winston-Salem. At Reynolds, Robinson coached the 9th Grade Boy's Team for two seasons, and was Varsity Boy's Assistant for two seasons under Howard West. West is the former Head Varsity Boys Basketball Coach and Athletic Director at Reagan High School and now the head men's coach at Forsyth Country Day. Robinson also played for Coach West while in high school, and for Mike Muse, a former Wake Forest Men's Basketball Assistant and current head men's coach at East Forsyth, who served as Coach West's Assistant at Reynolds. Robinson's 9th grade teams were 24-13 in his two seasons, while as a varsity assistant, the team won two CPC 4A Regular Season and Tournament Titles. The team made the State 4A Regionals in 1996-97, and the Sectional Finals in 1997-98.
Robinson also coached JV Baseball at Reynolds for three seasons. Robinson also played baseball in high school for Tim White, who is currently the athletic director at East Forsyth. Robinson played on a summer travel baseball team in 1990 under former East Surry Baseball Coach and Athletic Director Barry Hall. Robinson was assistant softball coach at Starmount for two seasons. Robinson coached the first all-girl's golf team at Bishop in the Fall of 2003-04. Robinson was the assistant softball coach at Bishop in 2006.
Robinson graduated from Appalachian State University in 1994, with a degree in Business Administration. Robinson is the founder and president of 292 Real Basketball Report,LLC., in Winston-Salem. The 292 Program helps girl's basketball players pursue their dream of playing basketball in college. Robinson volunteers his time as the Director of Basketball Operations for the Winston-Salem Stealers' Girls Club Program in Winston-Salem, an organization he founded in 1996. Robinson handles the day-to-day operations of the programs, such as practice and tournament scheduling, Club Registration of the players and coaches, and web site maintenance. Robinson also helps instruct and groom the head and assistant coaches of the teams in the program, but, as of August of 2004, does not coach any of the Club Teams in the Stealers' Program.
Robinson is a member of the
Women's Basketball Coaches Association (WBCA).
This is a National Organization of Professional, College, High School and Club Coaches. Robinson is also a member of three other national associations and one state association: the
National Federation of High School Coaches (NFHS)
, the
National Association of Basketball Coaches (NABC)
and at one time locally, the
North Carolina Basketball Coaches Association (NCBCA).
Robinson also was one of thirty coaches nationwide that took part in the 2005 USA Youth Development Festival held in Colorado Springs, Colorado. In 2007, Robinson was selected as Head Coach of the USA Basketball Blue Team that took the silver medal at the Youth Development Festival in Colorado. In 2006-07 Robinson was named to the NCHSAA Women's Basketball Sectional Tournament Committee. In 2007, Robinson was given a three year appointment to serve as the District 3 (North Carolina, South Carolina, Virginia, Maryland, DC) Coordinator for the WBCA All-American Game's Selection Committee. Also in 2007, Robinson received an invite to, and then spoke at, the Georgia Tech Women's Basketball Coaches Clinic in Atlanta, Georgia and in 2008 at both the University of Florida's Women's Basketball Coaching Clinic and the first annual Duke Women's Basketball Clinic. Coach Robinson has spoken at the first annual Westchester Country Day School Coaching Clinic in 2012, and at the first annual Triad Basketball Officials Association Clinic in Greensboro also in 2012. In 2008 and 2011, Robinson was named a chaperone for the WBCA's High School All-American Game held in conjunction with the NCAA Women's Final Four in Tampa, Florida ('08), Indianapolis, Indiana ('11) and Denver, Colorado ('12). In 2011, Robinson was selected to be the Chair for the WBCA HS All-American Game Selection Committee.
In 2013, Robinson was selected as an assistant coach for the USA Basketball Women's National Team. The team went 5-0 in Cancun, Mexico, and won the Gold Medal for the FIBA Americas Championships.
Robinson was selected as an assistant coach again in 2014, this time for the U17 National Team. The team went 7-0 in Pilsen, Czech Republic and the FIBA World Championships. In 2015, Robinson was a speaker at the first-ever USA Basketball Youth Development Coaching Clinic which was held in Las Vegas, Nevada.
Robinson also worked at the University of Florida Elite Camp in June of 2008. In June of 2008, Robinson authored
"My Foundation of Coaching",
a book that covers his experiences as a basketball coach, the roles that coaches play in the lives of young people, his beliefs and values as a person, and how everything happens for a reason. Robinson was selected to serve on the North Carolina High School Athletic Association's President's Advisory Committeee in August of 2008. Coach Robinson is the club sponsor for the Fellowship of Christian Athletes for McGuinness
.
Robinson was nominated and selected as one of five high school coaches in the nation to serve on the USA Basketball Women's Basketball Development Committee in 2009. This was a four-year commitment. The committee selected the 2009 U16 Team for USA Basketball which won the gold medal at the FIBA Tournament in Mexico City and qualified for the U17 FIBA Tournament in France for 2010. The 2011 and 2012 Teams that he helped select also won gold medals at the FIBA Tournaments in Mexico and Amsterdam. In 2010, Coach Robinson was a court coach with two-time gold medalists Ruthie Bolton at the U17 USA Basketball Trials in Colorado. The 2010 U17 Team won the Gold at the inaugural World Championships in France. Later in 2010, Robinson was one of four people named a "Living Legend" at the annual "Hang-the-Net" Contest at Hanes Hosiery Recreation Center. Robinson joined Kim Underwood from the
Winston-Salem Journal
, his former high school head coach Howard West, and current Detroit Lions Head Coach Jim Caldwell in receiving the "Living Legend" award. In 2015, Robinson spoke at the USA Basketball Youth Development Coaching Clinic in Las Vegas, NV, spoke at the Emory & Henry Coaching Clinic in VA, and at the Middle School Coaching Symposium at Immaculate Heart of Mary in High Point, NC. Coach Robinson was also the only varsity girls basketball coach to be a court coach at the USA Basketball East Regional Skills Clinic in October of 2015. In 2016, Robinson was selected to be on the three-team national board for USA Basketball's Appeals Panel which handles nationwide appeals for coaching certification and approval of gold licenses.
In the summer of 2010, Robinson was offered and accepted an assistant coaching position at Southeastern University in Lakeland, Florida. Southeastern University is an NAIA School which, under NAIA Rules, allowed Robinson to continue his daily activities, including coaching the Varsity Lady Villains. Robinson's role with Southeastern included "distance" scouting and pre / post-season skill development. The "distance" scouting translates to uploading video of Southeastern's future opponents, then developing a tendency and scouting report for the team, and sending the report to team via email. The pre / post-season skill development aspect of Robinson's job took place during the spring-fall months, and didn't interfere with his activities with the Lady Villains. Robinson held the position for one year under head coach Dee Stokes, before Stokes left her position to be professor-only on campus at Southeastern.
In 2013
, Robinson was honored by the NCHSAA to be on their "100 Coaches to Remember", in celebration of their 100th year anniversary of coaches in all high school sports in North Carolina. In January 2014, Robinson was named as State Coach of the Year by the National Federation of High Schools (NFHS) for the 2013 Year.
In June of 2013, Robinson took the reigns as the head coach of the Triad Trackers Wheelchair Basketball Team in Winston-Salem. Click HERE for a story on the Trackers.
Click on the
Greensboro News & Record
Link to watch his interview following the 2007-2008 Season. Robinson also published an article in "A System of Success: 2009 State Championship Basketball Playbook", a national high school publication. He also has entries in the 2010, 2011, 2012, and 2013 State Championship Basketball Playbooks published by Dan Ninham. In 2014, Robinson's club program was selected to be one of twelve organizations nationwide to be a USA Basketball Youth Pilot Program. In August of 2015, Coach R became the first high school girls basketball coach to speak at the first-ever USA Basketball Youth Coaching Academy which was held in Las Vegas, Nevada.
You can "Link In" with Coach Robinson by clicking
HERE
"Be Around It Everyday To Be Great."
- Anonymous
"Life Is Filled, And We Are Confronted, With Insurmountable Opportunities." -
Walt Kelly
"I wake up everyday feeling like I have something to prove."- Anonymous
"Weeding negativity from your team and organizational culture is essential. Once you do this, you're free to do great work." -
Jon Gordon
"Strive to know your craft better than anyone else in the world. Love what you do or don't do it." -
Mark Cuban
"Winners are those who learn to take full responsibility for their actions. The losers are those who blame others for their failures."
Coach K
"There's one thing about quitters you have to guard against – they are contagious." – Bear Bryant
Click HERE for Coach R's Thoughts On: Advice To Young Coaches.
---
A Decade Of Dominance - The Story Of The Varsity Lady Villains (2002-2012).

Front Cover.
The story of the Varsity Lady Villains, "A Decade of Dominance" is now available for a limited time at a discounted rate.

The 124 page book chronicles the previous ten seasons of Bishop McGuinness Lady Villains Basketball as seen through the eyes of the players, coaches and managers of the program.

The price is $19.95.

Shipping takes about 7-10 days from the day of your order.

---
Building & Sustaining A Successful Basketball Program.

Coach Robinson's manual and DVD set on "Building & Sustaining A Successful Basketball Program" is now available; the manual and first of five DVDs will be mailed to you after payment has been made.
The other four DVDs will be mailed throughout 2015. The cost of the entire set (manual and five DVDs) is $59.95.

Click HERE to watch a "Chalk Talk" session with Coach R:) from the Greensboro News & Record in 2014.

Assistant Varsity Coach Trish Grant.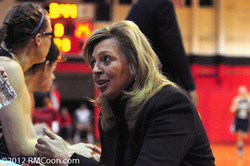 Trish Grant completed her 16th season at Bishop McGuinness High School, and her tenth season as the #1 Assistant Varsity Coach in 2016-17. In 2005-06,Coach Grant helped lead the Varsity Lady Villains to a perfect 31-0 Record and a State Championship Victory in March. In 2006-07, the Villains went 32-1 and repeated as State Champions. In 2007-08, the Lady Villains went 27-6 and won their third consecutive state championship. The Lady Villains won their fourth straight state title in 2008-09 with a 29-4 record. In 2009-10, the Lady Villains went 23-7 and won state title number five. The Villains won their sixth consecutive state championship going 26-6, in 2010-11. In 2011-12, the Lady Villains won their seventh consecutive state title. In 2012-13, the Villains rallied to win their eighth consecutive state championship, 57-52, in Raleigh. In 2013-14, the Villains made a half-court shot as time expired to win their ninth straight state championship, 61-58. The Lady Villains went 16-11 in 2015-16. In both 2015-16 and 2016-17, the Lady Villains advanced to the second round of the state playoffs. In 2016-17, the Lady Villains went 16-13 and made it to the third round of the state playoffs. She spent her first four seasons as the head junior varsity coach. Coach Grant previously had coached the jvs to a record of 67-8 over the past four seasons, going 16-5, 16-3, 18-0, and 17-0. Coach Grant's previous coaching experience includes both Head JV and Head Varsity Basketball Coach at her alma mater Saint Maria Goretti High School in Philadelphia and Immaculate Heart of Mary Elementary School in High Point.

Coach Grant helped organize intramural basketball leagues for basketball as other sports at King of Peace grade school where she played CYO basketball and won a city championship as a grade school player. Coach Grant was an All-Catholic Basketball and Volleyball player at Saint Maria Goretti High School. She attended LaSalle University on a basketball scholarship and graduated with a BS in Business Administration.

Coach Grant is a state certified Real Estate Appraiser with Bank of America/Home Focus. She is the youngest of seven children with four sisters and two brothers. She currently resides in High Point with her husband Bobby. Coach Grant has 1 daughter, Suzanne, who graduated from Appalachian State University in 2007 and is a former Varsity Lady Villain and a 2003 graduate of Bishop McGuinness High School. Suzanne now works in Philadelphia, Pennsylvania.

---
Assistant Varsity Coach Laurie Mulqueeny.

Laurie Mulqueeny is in her second stint as a member of the Lady Villains coaching staff. 2015-16 was her first as a head junior varsity girls basketball coach. Her 2016-17 team went 12-8. Coach Mulqueeny was a JV and Varsity assistant in 2006-07, and 2007-08 winning a state title each year with the varsity team. Mulqueeny returned as the program's video coordinator in 2013-14 as the Lady Villains won a state title again.

Coach Mulqueeny played basketball and softball at Meredith College in Raleigh.

---
Varsity Assistant Coach T.J. Eggers.

T.J. Eggers finished his sixth season as a Varsity Assistant Girls Basketball Coach at Bishop McGuinness in 2016-17 after head coaching the JV's to a 14-2 record in 2011-12 and a 7-9 record in 2012-13. The JV Lady Villains went 7-8 in 2013-14 and 8-11 in 2014-15. As a varsity assistant, he helped the Lady Villains win a state championship in his first three seasons.

Coach Eggers is a 2005 Graduate of Bishop McGuinness and a 2009 Graduate of Auburn University. Coach Eggers has a degree in landscape horticulture and is in pursuit of a Masters Degree in Education.

Coach Eggers recently coached at St. Leos, one of our Catholic Feeder Schools, as the head coach of the girls junior varsity team. He is now the athletic director at IHM, also one of our Catholic Feeder Schools, as well as the varsity head girls basketball coach there.

---
Assistant Varsity Coach Merritt Rizoti.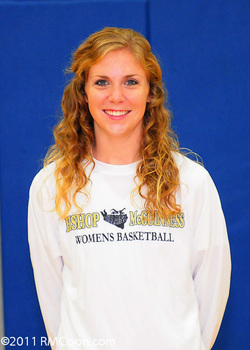 Merritt Rizoti completed her sixth season as an Assistant Varsity Girls Basketball Coach at Bishop McGuinness in 2016-17. In 2011-12, Coach Rizoti helped the JV Lady Villains to a 14-2 record, and the varsity team to a state championship victory. Coach Rizoti was an assistant varsity coach in 2012-13 and 2013-14 on varsity teams that won a state both seasons and in 2014-15 and 2015-16 when the Lady Villains advanced to the second round of the state playoffs. The 2016-17 team made it to the third round of the state playoffs.

Coach Rizoti is a 2011 Graduate of the University of North Carolina at Chapel Hill with a B.A. in Exercise and Sport Science (concentration in Sport Administration and a Minor in Coaching Education and Environmental Science and Studies).

Coach Rizoti played club basketball at U.N.C. and high school basketball at Wilkes Central. At U.N.C., Coach Rizoti managed all club basketball operations. Coach Rizoti has been a coach at the Chapel Hill-Carrboro YMCA in Chapel Hill.

Coach Rizoti was a member of the Fellowship of Christian Athletes at U.N.C. Coach Rizoti also was on the Dean's List in the: Spring of 2011, Fall of 2010, Spring 2010, Fall 2009, Fall 2008, and Spring of 2008. Coach Rizoti was a Garland Johnson Scholar, is ASEP (American Sport Education Program) Certified, CPR / First Aid Certified, and of the Gamma Kappa Alpha National Italian Honor Society.

---